Charlotte is the daughter of PC David Brentnall, of West Mercia Constabulary, who sadly lost his battle with cancer when Charlotte was just four years old. Sally Brentnall, David's widow, has been receiving help from St George's Police Children's Trust since David's death in 2005.
Sally and Charlotte have not only received the weekly child maintenance grant, but have alsoSilver Award accessed other support provided by the Trust. In particular, an ex-gratia grant for Charlotte to complete her Gold Duke Of Edinburgh Award. Charlotte has already successfully completed her Bronze and Silver Awards and is due to complete her Gold award in November of 2018; Charlotte will have the pleasure of receiving her award from a member of the Royal Family at one of the Royal Palaces. Sally said of her daughter's achievements "I am very very proud of Charlotte and I know her late father PC David Brentnall would be so proud too.'"
Charlotte has completed gliding and piano lessons for her skills segment of the Bronze and Silver Awards, and has taken up cookery as her skill for the Gold Award. She has volunteered at the Florence Nightingale Hospice Shop and Rainbows over the course of the Awards. RainbowsCharlotte has also helped raise £1,000 for the Oxford Homeless Pathways Project; baking nearly 200 cookies and collecting donations at a local festival.
Charlotte has completed all this whilst also maintaining a part time job and keeping up her attendance at the gym!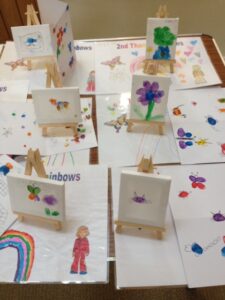 Charlotte's ex-gratia grant was used to help fund bronze, silver and gold practice and qualifying expeditions. The gold award required her to walk 50k in the challenging hills of the Lake District over four days carrying a full 65 litre rug sack.
Sally explained ; "Charlotte had benefitted so much from the award but I had been struggling aTents bit with the expense despite trying to keep costs down and I knew that Charlotte would need specialist kit to complete the expedition such as; walking boots, waterproof jacket, suitable rucksack and the fee for the cost of the expedition, which was not inconsiderable! I work part-time and receive a widow's pension from the police, but St George's Trust really helped with this additional cost and to help Charlotte achieve her goals. I remember Dave telling me about the Trust before he died and encouraged me to access help if I needed it, so too did his close friend who told me to ask for help with the costs of Charlotte's expedition."
Charlotte recently finished her expedition and thoroughly enjoyed it! Her shoulders and collar bone were thankful for the well-fitting rucksack purchased and for the light-weight expedition food. Charlotte even had time to assist when one of her teammates fell ill; taking her to A&E, spending all night there and carrying on to complete the expedition the next day.
Charlotte is looking forward to finally having the award signed off; she explained that she has learnt a lot from the experience such as team work, patience, orienteering and map-reading, not excluding the additional skills such as gliding and cooking! Charlotte hopes to go to University and gain a degree in Business Studies with an ultimate aim of joining the RAF. Charlotte was pleased to learn about the Further Education Grant and that she could also receive help with the cost of driving lessons, through the Driving Lesson Grant now that she is 17; she was keen to access these as her father had completed an advanced driving course.
Charlotte has said;"I am really grateful that I have been given the opportunity to develop and to build my confidence which will help provide me with a brighter future."
Sally reiterated Charlotte's message; " I am so grateful for the support of the St GeorgesSally and Charlotte Police Children Trust. Bringing up Charlotte as a single mum has been both lonely and challenging, but having the monthly financial support has been a godsend.
Now she is stretching my finances even more with these extra-curricular activities, its meant I have been able to back her with the Trusts help to enable her to successfully take on these exciting challenges and as a result she is developing into an ambitious, independent, well rounded individual.
Thank St George's, we couldn't have done it without you."